Rosedale Park includes two 18 hole disc golf courses available for public use. Learn more about the vast differences between the courses below: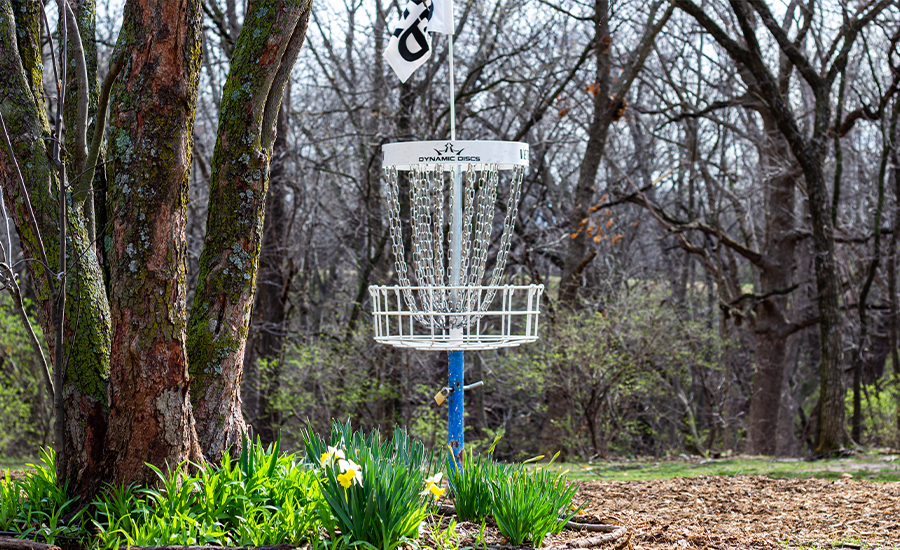 Up Top
Established in 1984, this well-maintained 18 hole course includes 38 baskets and a practice pin near hole 1. You'll find open fairways lined with woods and wide-open shots framed by steep bluffs as you make your way through this multi-use park. Each hole includes concrete tee pads and a Dynamic Discs Veteran basket, typically set short, as well as Mach 3's that frequently change position. Enjoy benches and trash cans on every hole. If you're looking to relax after your round, hole 1 offers two picnic tables shaded by a catalpa tree with views of the skate park.
Disc return located near map on hole 1. Discs are collected and distributed at Dynamic Discs.
Par: 54
Holes: 18
Baskets: 38
Length: 4955 ft. – 7713 ft
Down Under
A literal hidden gem in Kansas City. This course is unmarked at street level and is accessed by a staircase nestled into the woods near hole 2. While it may be rough with gravel/dirt tee pads, this heavily wooded course is a must-play. Holes wind along the edges of steep bluffs as you play below the Up Top course. You'll find 18 bright orange King pin's at various placements and alternate tee pads on several holes. Down Under is technical and unforgiving with mostly bad trees, not good ones. Take a break at the recently remodeled tye die picnic table on hole 9.
To exit, climb out using the natural staircase carved into the hill near hole 18s basket. Exits Up Top near hole 5.
Par: 54
Holes: 18
Baskets: 18
Length: 3900 ft. – 4300 ft.
Rosedale Park
4100 Mission Rd
Kansas City, KS 66103
Upcoming Events at Rosedale Park
(*Not affiliated with Rogue of Rosedale)
Tournaments:
Rosedale Revival 2022 | March 27th, 2022 – Presented by Rogue of Rosedale. 2 rounds of 21 hole safari layout utilizing both Up Top and Down Under combined.
This tournament is full.